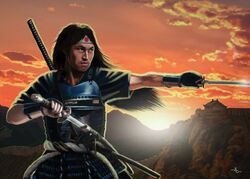 Hida Kenjiro, the Lord of Blades, was a scout and kensai of the Crab Clan, a devout reader of Mirumoto's Niten. [1]
A Brother's Destiny
Edit
After several years serving in the Kaiu Wall, Kenjiro was appointed in the Colonies. He eventually joined the Traditionalist forces under the banner of Iweko Seiken. In 1199 Kenjiro reported the Imperial Heir that the Progressive forces led by the Mantis Clan Champion Yoritomo Hiromi had routed the army which was moving toward the rebels. [2]
External Links
Edit
References
Ad blocker interference detected!
Wikia is a free-to-use site that makes money from advertising. We have a modified experience for viewers using ad blockers

Wikia is not accessible if you've made further modifications. Remove the custom ad blocker rule(s) and the page will load as expected.