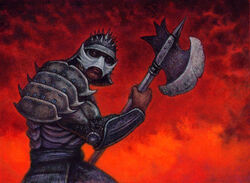 Hida Kengo was a Crab Clan bushi and a member of the Damned.
Battle at the Wall of Bones
Edit
In 1169 along with Hida Tsubaru and Kuni Daigo Kengo was one of only three survivors of Kyofu's Last March. Kengo stood with Kyofu in the battle and saw his death. He brought Kettei to Daigo. [1] [2]
External Links
Edit
References
Ad blocker interference detected!
Wikia is a free-to-use site that makes money from advertising. We have a modified experience for viewers using ad blockers

Wikia is not accessible if you've made further modifications. Remove the custom ad blocker rule(s) and the page will load as expected.