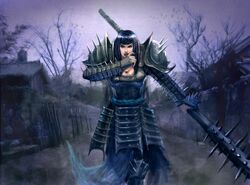 Hida Kaoru was a Crab Clan bushi.
Station at the Wall
Edit
When first deployed to the Kaiu Wall, she slew several goblins [1] and in 1169 helped Hida Hiyao to kill an ogre. [2]
Training
Edit
Kaoru trained at Kyuden Hida under the eye of Hida Otoya. The former Shogun's Advisor was impressed when Kaoru defeated the veteran Hiyao in a kenjutsu practice. Hiyao had broken Kaoru's bokken and she was wounded by a shard in her leg. Kaoru endured and used her body and bare hands to overwhelm the overconfident warrior. [3]
Third Yasuki War
Edit
This year the Third Yasuki War was near to begin, and Kaoru dismissed a Crane magistrate who was causing Moto Taban difficulties regarding travel papers at Friendly Traveler Village. [4]
War of Dark Fire
Edit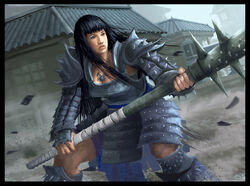 In 1171 Koru was fighting in the Dragonfly lands under the orders of Hida Hikita. The yobanjin Army of Fire had attacked and a combined army Lion-Crab were aiding the Tonbo. [5]
Defending the Wall
Edit
Kaoru was again in the wall, defending it against a relentless attack of the demons and beasts of the Shadowlands. She aided Hiruma Akio to kill a large oni. [6]
Destroyer War
Edit
In 1172 the Amoro's Legion was aided by the sohei of the Order of Venom against the raids of the Son of Fire riding his Great Wyrm. Kaoru discovered evidence the monks were related with the called Spider Clan while she was investigating one of their assistants, the madman Udo. [7] The man attempted to cook her alive in some sort of massive pot apparently used for stew preparation. Kaoru escaped and informed her commanding officer. [8]
External Links
Edit
References
Ad blocker interference detected!
Wikia is a free-to-use site that makes money from advertising. We have a modified experience for viewers using ad blockers

Wikia is not accessible if you've made further modifications. Remove the custom ad blocker rule(s) and the page will load as expected.