Hida Kaiji was a berserker of the Crab Clan who became a mutant.
Kaiji had a brother, Hida Zaiburo. [1]
Colonies
Edit
Nonhuman
Edit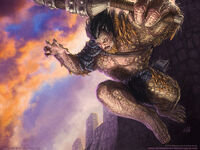 Kaiji mutated within the ruins he had found in the Colonies. He survived but was not human anymore. [2] In 1198 the Kuni Daimyo Kuni Renyu ordered to remove everything of value from the regions in the Colonies claimed by the Crab, as these resources were needed urgently in Rokugan. Kaiu Okaru considered the task impossible, until Hida Osote gave him a new worker, Kaiji, was was ready to begin with the work. [3]
Dark Naga
Edit
Kaiji fought the Dark Naga menace in the Colonies. [4]
Mutation
Edit
Kaiji's body was reshaped by his mutation, becoming more and more a monster. In 1199 Kaiji confronted Utaku Lishan. The Battle Maiden managed to avoid the massive, earth-shattering blows issued by the much larger assailant. At the end, Kaiji acquiesced and left, granting the victory to Lishan. [5]
P'an Ku's Madness
Edit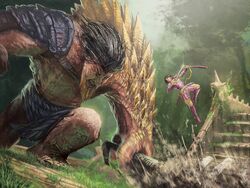 During the incidents that happened during P'an Ku's madness in 1199 Kaiji was defeated and presumed killed by the Battle Maiden Utaku Sung-Ki. The mutant returned to life after Sung-Ki's departure. [6] After the mad dragon was banished, representatives of the Dragon Clan condemnned Renyu's behaviour publicly. The Kuni Daimyo requested the Kaiji retribution against them. [7]
External Links
Edit
References
Ad blocker interference detected!
Wikia is a free-to-use site that makes money from advertising. We have a modified experience for viewers using ad blockers

Wikia is not accessible if you've made further modifications. Remove the custom ad blocker rule(s) and the page will load as expected.