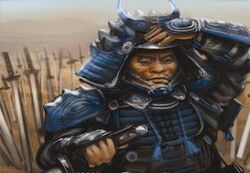 Hida Horu was a berserker of the Crab Clan. Some said his father was a legend, and others a serpent. Horu had Scorpion allies and not all agreed with that. [1]
Scorpion Wall
Edit
Horu was stationed in the Scorpion lands near the Second Festering Pit. He was not particularly well regarded at home, as most found him opportunistic and obnoxious. The Scorpion found him agreeable, however, since they saw such qualities as sign that he could be manipulated if the need arises. [2] He and his companion Soshi Mugora were on constant patrol in the regions between the outposts of the Wall. They were inspected in 1198 by the Crab Clan Champion Hida Kisada himself. [3]
External Links
Edit
References
Ad blocker interference detected!
Wikia is a free-to-use site that makes money from advertising. We have a modified experience for viewers using ad blockers

Wikia is not accessible if you've made further modifications. Remove the custom ad blocker rule(s) and the page will load as expected.