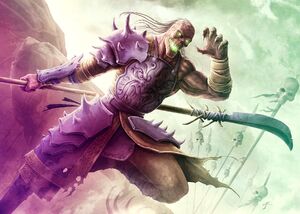 Hida Horii, formerly of the Crab Clan was a general bloodspeaker of the Shadowlands.
War in the Shadowlands
Edit
As bloodspeaker Horii's fealty was with Iuchiban, against the Daigotsu's loyalists. [1]
Shameswords
Edit
Horii and Migawari tortured Kokujin Kobai in the Twilight Mountains in an attempt to learn about the Shameswords. In 1166 Kobai was released by Mirumoto Narumi and Kuni Yaruko, who wounded them in the fight. [1]
Horii was a nemesis of Kuni Yaruko. [1]
External Links
Edit
References