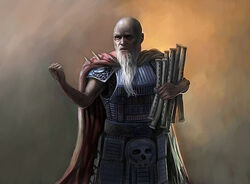 Hida Hikita was a bushi commander of the Crab Clan.
Demeanor
Edit
Hikita was one of the most unpleasant men his companions had ever known. He was a seasoned veteran and had a sounding tactical knowledge. [1]
War of Dark Fire
Edit
In 1171 Hikita was under the command of Ikoma Otemi in the War of Dark Fire, who led a combined Lion, Crab, and Dragonfly army against the yobanjin Army of Fire. The ancestral lands of the Tonbo had been attacked and Otemi evacuated the villages to lure the raiders deep into a trap they had planned, to enclose their ranks completely. The Dark Oracle of Void Tonbo Toryu, appeared and unleashed his wrath against the invaders of his former Clan. [2]
End of the War
Edit
Hikita was the leader of the crab forces who fought in the Battle of Dragon Heart Plain, where the minions of Chosai were defeated, ending the war. [1]
Defending the Wall
Edit
In 1171 the Lion Clan had arrived to the Kaiu Wall, as reinforcements on the Crab defense against a relentless attack of demons. Hikita was the Lion liasion with the and his contact was Akodo Hiroshi. [3]
Destroyer War
Edit
Hikita was defending his homeland during the Destroyer War when their Unicorn allies were ordered to pull out and concentrate their efforts on finding Daigotsu for the Empress Iweko I. Moto Qu Yuan told they would be replaced by the Imperial Legions led by the Shogun Moto Jin-sahn himself as ordered by the Emerald Champion Shosuro Jimen. [4]
External Links
Edit
References
Ad blocker interference detected!
Wikia is a free-to-use site that makes money from advertising. We have a modified experience for viewers using ad blockers

Wikia is not accessible if you've made further modifications. Remove the custom ad blocker rule(s) and the page will load as expected.