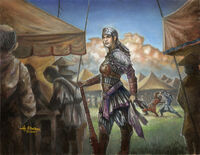 Hida Haruko was a Crab Clan bushi.
Third Yasuki War
Edit
In 1170 she was on sentry duty at the Crab army's encampment during the Third Yasuki War when Isawa Ochiai and her yojimbo Masakazu arrived to request a meeting with Hida Sozen to attempt to end the war peacefully. [1]
External Links
Edit
References
Ad blocker interference detected!
Wikia is a free-to-use site that makes money from advertising. We have a modified experience for viewers using ad blockers

Wikia is not accessible if you've made further modifications. Remove the custom ad blocker rule(s) and the page will load as expected.