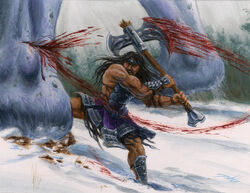 Hida Chiyurei was a berserker and tactician of the Crab Clan. He was known for his trademark axe. [1]
Sparring
Edit
The ronin Zansho did not care about money, he cared about honor, and sought to be hired by any lord. In 1198 Zansho dared to spar jiujutsu with Chiyurei, who was a large opponent, to prove his worthy. [2]
External Links
Edit
References
Ad blocker interference detected!
Wikia is a free-to-use site that makes money from advertising. We have a modified experience for viewers using ad blockers

Wikia is not accessible if you've made further modifications. Remove the custom ad blocker rule(s) and the page will load as expected.