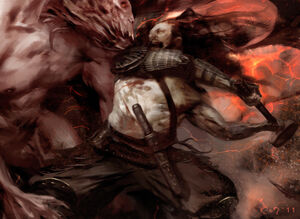 Hida Bakishi was a berserker of the Crab Clan. He was commonly known as the 'Friend of Thunder'.
Colonies
Edit
Bakishi was appointed in the Colonies, when the Imperial Governor Otomo Suikihime allowed any Great Clan to expand there. The invulnerable creature known as the Devourer wiped out a Colonial Crab village. Bakishi used an Egg of P'an Ku upon part of one talon broke off during the fray, to create a duplicate so we could learn how to kill it. Instead a demon what the egg left was a goblin, which could be recognized by its kin as a doppelganger of the disappeared Gakku. [1]
External Links
Edit
References
Ad blocker interference detected!
Wikia is a free-to-use site that makes money from advertising. We have a modified experience for viewers using ad blockers

Wikia is not accessible if you've made further modifications. Remove the custom ad blocker rule(s) and the page will load as expected.