Ad blocker interference detected!
Wikia is a free-to-use site that makes money from advertising. We have a modified experience for viewers using ad blockers

Wikia is not accessible if you've made further modifications. Remove the custom ad blocker rule(s) and the page will load as expected.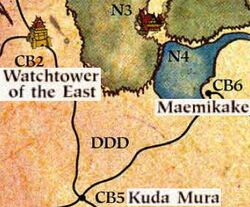 The Quiet Wind Plain (DDD) was named for the soft winds that blow across the plain from Shinomen Mori, sometimes a haunting music can be heard. [1] [2] It was contained within Kuda province. [3]
References
↑ Roleplaying in the Emerald Empire, p. 244
↑ Legend of the Five Rings: Third Edition, p. 305
↑ The Atlas of Rokugan, p. 26