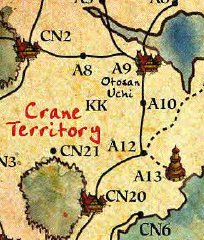 The Plain of the Crane (KK), the Doji family lands, were lush, dotted with rice farms and merchant caravans. [1] The Daidoji ensured that the few bandits that attacked rarely live long enough to enjoy their bounty. [2]
In 1133 when the Crane Clan Army was dealing with the Battle of Oblivion's Gate Kumo flooded the Doji plains to waste. [3]
References
↑ Roleplaying in the Emerald Empire, p. 235
↑ Legend of the Five Rings; Third Edition, p. 304
↑ Small Farm (Spirit Wars flavor)
Ad blocker interference detected!
Wikia is a free-to-use site that makes money from advertising. We have a modified experience for viewers using ad blockers

Wikia is not accessible if you've made further modifications. Remove the custom ad blocker rule(s) and the page will load as expected.