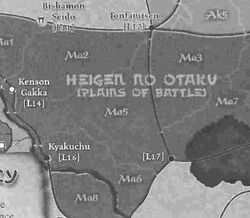 The Heigen province (Ma5) in the Plains of Battle was a Lion province in the Matsu territory. It bordered the eastern Scorpion Clan territory and the Hidden Watch Keep, to the north bordered the Gakka province (Ma2), to the east the Tonfajutsen province (Ma3) and the Kaeru province (Ma7), being enveloped in the south with the Lion Azuma province (Ma6). [1] Shiro Koritome wais the only major holding. [2]
Known Governors
Edit
References
Ad blocker interference detected!
Wikia is a free-to-use site that makes money from advertising. We have a modified experience for viewers using ad blockers

Wikia is not accessible if you've made further modifications. Remove the custom ad blocker rule(s) and the page will load as expected.