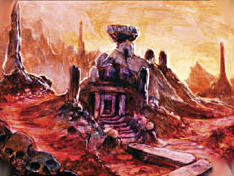 The Dragon Heart Plain was the wide open plain which separated the Dragon and Phoenix Clan provinces. [1] It was divided into two different parts, the rocky southern plains and the ill-omened northern plains. [2]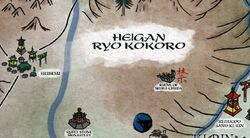 Despite a relatively cool climate, the region was quite fertile and many people living in the southern provinces felt the lack of cultivation and food production wasteful. Anyone with a deeper understanding of the area's history, however, would not make such observations.[1]
Northern side
Edit
In the northern plains once stood Shiro Chuda, [3] the home of the Snake Clan, but they were destroyed by the Phoenix Clan in the Five Nights of Shame in 402. There were only broken stones and shattered foundations remaining which an occasional shugenja would dig around in, hoping to find some remnants of the Snake Clan's magic. The lucky explorers returned disappointed, the unlucky ones did not return at all. [4]
Animals avoided many spots within the plain and outbreaks of the taint had occured without any apparent cause. [5]
The region was technically within the lands of the Ox Clan, despite that the Phoenix had unofficially cared for them for centuries. [3]
The high barren plain overlooks the Dragon fortresses in the south of Dragon lands and Reihaido sano Ki-Rin. [4]
Southern side
Edit
In the south the plains were rocky and shallow-soiled, with areas of extremely treacherous footing and sparse water supplies. [2]
Five Nights of shame
Edit
In 402 the Phoenix Clan descended on the Snake and destroyed the Clan, who had fallen to a Shuten Doji. [6]
After the Ox Clan was founded in the 12th century they controlled the edge of the Plain, patrolled by their cavalry to prevent incursions by bandits. The clan' villages had waystations for warriors and mounts to rest, and they also built a number of small keeps. [7]
Dragon-Phoenix War
Edit
In the Dragon-Phoenix War an army led by Matsu Tejin defeated Mirumoto Ukira. [8]
War of Silk and Steel
Edit
In 1168 near the Dragonfly River [9] the Crane forces were defeated by the Dragon army in the War of Silk and Steel but saved the day when the Lion joined them. [2]
Hitomi falls
Edit
In 1170 Hitomi fell in the southern rocky plains after she was defeated by the Obsidian Dragon. [10]
External Links
Edit
References