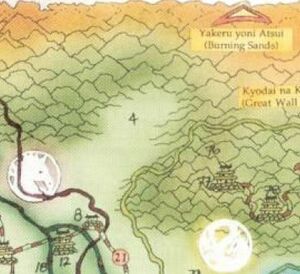 Ice Plain was a desolate place, devoid of any life. In winter was a snowed, icy plain, and in summer a barrened waste. [1] It was surrounded on three sides by the Great Wall of the North, between the Unicorn lands to the West and South, bordering the Dragon Clan to the East. [2] Utaku commanders often used these plains to practice the complex Shiotome battle tactics. The highways that surrounded the Ice Plain were known as the Circle of Thunder, due to the constant far-off pounding of hooves that could be heard from the road. [3]
References
↑ Roleplaying in the Emerald Empire, p. 230
↑ Roleplaying in the Emerald Empire, p. 228 Map
↑ Secrets of the Unicorn, p. 52
Ad blocker interference detected!
Wikia is a free-to-use site that makes money from advertising. We have a modified experience for viewers using ad blockers

Wikia is not accessible if you've made further modifications. Remove the custom ad blocker rule(s) and the page will load as expected.