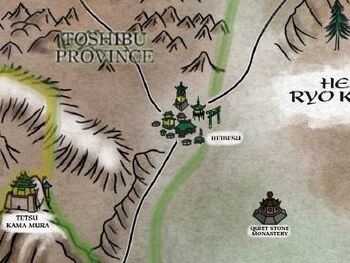 Heibeisu (D8) in the Toshibu province, [1] was the sister city of Yamasura. [2]
Location
Edit
Heibeisu rested on the border between the Dragon mountains and the vast Dragon Heart Plain. Its location made it a perfect place for the Dragon trade [3] with the eastern Empire, including the Phoenix, Ox and Crane Clan. [2] Since the various governors of the city had always refused to expand its borders, many buildings began to have two or three stories to accommodate the population. It sported a large number of temples to a variety of Fortunes, being the teo most prominent the one devoted to Daikoku and another to Bishamon. [4]
Izaku Library
Edit
In 1128 the Izaku Library was founded, and refugees of the Agasha and Isawa Libraries made it the greatest repository of magical knowledge in all of Rokugan. [5]
Dragon-Phoenix War
Edit
Heibeisu suffered during the Dragon-Phoenix War, but blossomed after the war's end. Since the demise of Otosan Uchi the trade here had only increased since Toshi Ranbo wo Shien Shite Reigisaho was not yet large enough to handle all the trade that used to take place in the previous capital. [2]
Trade is Shrinking
Edit
After the Fall of Otosan Uchi and the selection of Toshi Ranbo as the new Imperial City, the Lion and Crane moved most of their principle interests to the new capital, leaving only marginal interests in Heibeisu. [3]
War of Dark Fire
Edit
In 1171 the city was attacked by the yobanjin Army of Fire during the War of Dark Fire. [6]
Known Governors
Edit
References
Ad blocker interference detected!
Wikia is a free-to-use site that makes money from advertising. We have a modified experience for viewers using ad blockers

Wikia is not accessible if you've made further modifications. Remove the custom ad blocker rule(s) and the page will load as expected.