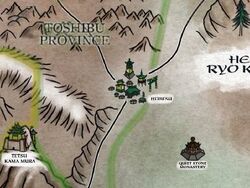 Heibeisu (D8) in the Toshibu province, [1] was the sister city of Yamasura. [2]
Location
Edit
Heibeisu rested on the border between the Dragon mountains and the vast Dragon Heart Plain. Its location made it a perfect place for the Dragon trade [3] with the eastern Empire, including the Phoenix, Ox and Crane Clan. [2]
Izaku Library
Edit
In 1128 the Izaku Library was founded, and refugees of the Agasha and Isawa Libraries made it the greatest repository of magical knowledge in all of Rokugan. [4]
Dragon-Phoenix War
Edit
Heibeisu suffered during the Dragon-Phoenix War, but blossomed after the war's end. Since the demise of Otosan Uchi the trade here had only increased since Toshi Ranbo wo Shien Shite Reigisaho was not yet large enough to handle all the trade that used to take place in the previous capital. [2]
Trade is Shrinking
Edit
After the Fall of Otosan Uchi and the selection of Toshi Ranbo as the new Imperial City, the Lion and Crane moved most of their principle interests to the new capital, leaving only marginal interests in Heibeisu. [3]
War of Dark Fire
Edit
In 1171 the city was attacked by the yobanjin Army of Fire during the War of Dark Fire. [5]
Known Governors
Edit
References
↑ Secrets of the Dragon, p. 96
↑ Time of the Void, p. 99