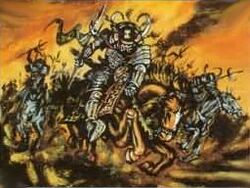 Heavy Cavalry were the main line unit of a Unicorn army. [1]
Heavy Cavalry was deployed in the center of the line, to charge and break, the enemy line. Where the opposing army had cavalry, the Heavys opposed them. [1]
Equipment
Edit
The bushi of these units carried the full suit of armor, the daisho and yari. Their horses were fully armored with flexible metal plated blankets to allow for maximum mobility. [1]
See also
Edit
External Links
Edit
References
Ad blocker interference detected!
Wikia is a free-to-use site that makes money from advertising. We have a modified experience for viewers using ad blockers

Wikia is not accessible if you've made further modifications. Remove the custom ad blocker rule(s) and the page will load as expected.