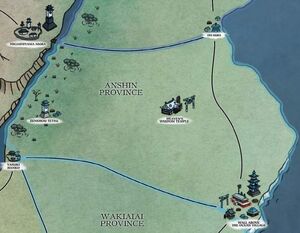 The Heaven's Wisdom Temple was located in the Asahina Anshin province [1] on a high plain. It was ideal for stargazing and as such it was especially well known for its astronomy and astrology. The library contained astral records dating back centuries alongside the prophecies that the monks made based upon those observations. [2] The monks were mostly composed by former Crane members. They were seen as naive scholars by sohei temples, as the Temple of Osano-Wo. [3]
References
Ad blocker interference detected!
Wikia is a free-to-use site that makes money from advertising. We have a modified experience for viewers using ad blockers

Wikia is not accessible if you've made further modifications. Remove the custom ad blocker rule(s) and the page will load as expected.