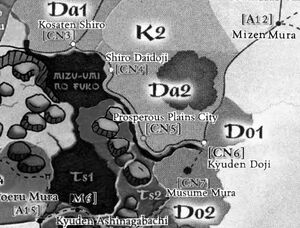 Hayaku province (Da2) was one of the northern provinces of the Daidoji. [1] It was named after Doji Hayaku, the founder of the Daidoji family. [2]
Hayaku was bordered in the north by the Nanhan province (K2), by the Lake of Sorrows and the River of the Blind Monk in the west, which separated the Crane from the lands of the Mantis Clan, by the Oyomesan province (Do2) in the south, by the Kazenmuketsu province (Do1) in the east, being enveloped by Imperial lands in the northeast, leading towards Otosan Uchi. [1]
Holdings
Edit
Its most important holdings were Shiro Daidoji, the Daidoji capital, Prosperous Plains City, Osari Mori, [1] Nobuto Toshi, [3] and Shiro Giji. [4]
References
↑ The Atlas of Rokugan, p. 43
↑ Secrets of the Crane, pp. 41, 79
↑ Way of the Ninja, p. 68
Ad blocker interference detected!
Wikia is a free-to-use site that makes money from advertising. We have a modified experience for viewers using ad blockers

Wikia is not accessible if you've made further modifications. Remove the custom ad blocker rule(s) and the page will load as expected.