Please note: This article is about the Lion Clan province. For other uses of the term, please see Hayai (disambiguation).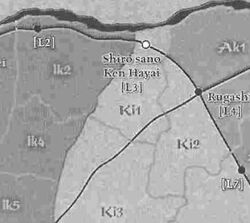 The Hayai province (Ki1) was a large area of Kitsu lands extending from the southern borders of Dragon Clan territory to the northern borders of the Dairiki province (Ki3) and from the easternmost borders of the Eiyu province (Ik2) to the western borders of the Rugashi (Ki2) and Oiku provinces (Ak1). Notable locations within the province included Shiro sano Ken Hayai (L3) [1] surrounded by the Plains of Bloodied Honor. [2]
Known Governors
Edit
The governor of this province in 1170 was Akodo Nakama. [3]
References