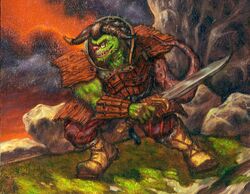 Hatsu Suru no Oni, in addition to being a powerful oni, was one of the lieutenants of Fu Leng in the First War. It was ordered to guard the Shadowlands and to watch Rokugan. In addition to the usual powers of oni, the touch of Hatsu Suru no Oni was rumored to bring never-ending pain. [1]
Appearance
Edit
Hatsu Suru no Oni was a gigantic oni, its face looked vaguely human, and had razor-sharp claws on its feet and hands. It was covered in green leathery scales and wore red brigandine armor. The oni used its poisoned claws in combat, despite it wielded a giant sword during the war. [2]
When the First War ended, Hatsu Suru no Oni was the highest ranked demon that remained alive in the mortal realm, charged with remaining in the Shadowlands to protect it from the Rokugani. The demon made a home in a cave near the edge of the Shadowlands. Hatsu Suru no Oni was lured by Hiruma into a trap built by Kaiu, which had been secured with [[Kuni]'s wards. [3] The trapped demon was killed by Hiruma in the year 43. This had been the test of loyalty given by the Kami Hida to these three followers, who earned the honor to become Hida's lieutenants. [1] [4]
Hatsu Suru no Oni had been unable to return to the mortal realm ever since. It had occasionally sent spawn through the Festering Pit. [5]
External Links
Edit
References
↑ Creatures of Rokugan: Third Edition, p. 146
↑ Creatures of Rokugan: Third Edition, pp. 146-147
↑ Secrets of the Crab, p. 7
↑ Creatures of Rokugan: Third Edition, p. 147
Ad blocker interference detected!
Wikia is a free-to-use site that makes money from advertising. We have a modified experience for viewers using ad blockers

Wikia is not accessible if you've made further modifications. Remove the custom ad blocker rule(s) and the page will load as expected.