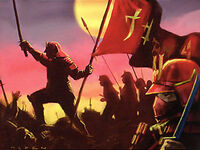 Hata was a vertically-mounted banner mounted on a pole. It was used to mark the location of the Kaisha, the headquarters of his command, and the Daibutai. It allowed to their commander easy guide of the troop movements. [1] It was the source for the respected office of hatamoto, or 'banner bearer', for such advisors carried of the daimyo's words to the rest of his clan. [2]
Akodo himself created after he reaiized it would be very easy for soldiers to lose track of their Kaisha and Daibutai. [3]
References
↑ Way of the Lion, p. 99
↑ Winter Court: Kyuden Seppun, p. 58
↑ Clan War: Lion Army Expansion, p. 60
Ad blocker interference detected!
Wikia is a free-to-use site that makes money from advertising. We have a modified experience for viewers using ad blockers

Wikia is not accessible if you've made further modifications. Remove the custom ad blocker rule(s) and the page will load as expected.