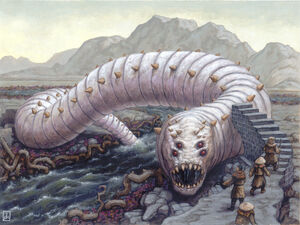 Hashi no Oni was an oni of the Shadowlands was a wormlike oni with a broad, armored back. [1]
Hashi Bridge
Edit
In 1165 Daigotsu and his followers crossed a bridge over the Black Finger River to escape from Iuchiban, who had conquered the City of the Lost. The bridge was destroyed behind them to dissuade pursuit. Daigotsu made a bargain with Hashi no Oni, which was summoned each time Daigotsu or one of his followers wished to use its back as a bridge. The price was a living sacrifice, usually a captured Crab or a peasant kidnapped beyond the Kaiu Wall. [1]
External Links
Edit
References
Ad blocker interference detected!
Wikia is a free-to-use site that makes money from advertising. We have a modified experience for viewers using ad blockers

Wikia is not accessible if you've made further modifications. Remove the custom ad blocker rule(s) and the page will load as expected.