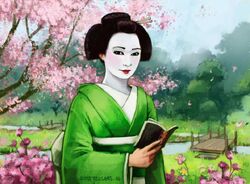 Harukaze, the Confidant, was an artisan and geisha who was known as the Spring Breeze. Highly intelligent and self-educated to an even higher level than most geisha, Harukaze prides herself on being able to hold a conversation with the most sophisticated samurai scholars and courtiers. [1] Those secrets Harukaze gathered were written in her journal. [2]
External Links
Edit
References
Ad blocker interference detected!
Wikia is a free-to-use site that makes money from advertising. We have a modified experience for viewers using ad blockers

Wikia is not accessible if you've made further modifications. Remove the custom ad blocker rule(s) and the page will load as expected.