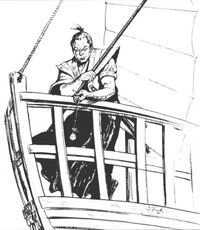 Hartuisun-wo was a samurai owner of a merchant fleet.
His parents were wealthy silk merchants who lived in one of the smaller islands to the northwest of Shima no Kinu. They taught Hartuisun-wo that money was the true source of power within the Empire. His parents were killed by Doji Bake upon the slight to ask a price too high for a samurai of his station. [1]
Hartuisun-wo was taking in by other families and given a more martial training. He build up a trading empire in few years, and used it to hire an assassin which took care of his parent's murder. He spent all his efforts in seeking the doom of as many Crane as he could reach. [1]
See also
Edit
References
Ad blocker interference detected!
Wikia is a free-to-use site that makes money from advertising. We have a modified experience for viewers using ad blockers

Wikia is not accessible if you've made further modifications. Remove the custom ad blocker rule(s) and the page will load as expected.