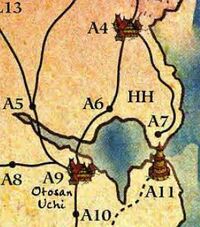 The Peninsula of Dawn (HH) had a light house, as it twin the Peninsula of Sunset, guiding ships into the Bay of the Golden Sun, welcoming them to Otosan Uchi, and watching for pirates and smugglers. [1] With the Peninsula of Sunset formed the Antlers of the White Stag. [2] It was located between North Hub Village and the Golden Sun Bay, being home to the tiny Tortoise Clan. [3]
Tortoise Clan
Edit
The Tortoise were at one point answerable to the Emperor only, but in recent times have become autonomous and head up an alliance of minor clans, representing the others in court. The Tortoise have also refused to abandon the peninsula or the holdings in Otosan Uchi since its destruction. The general feeling was perhaps that the might not be given new lands if they abandoned the ones they had. [3] The northern peninsula housed the Dawn Tower, another of the Tortoise's unofficial bases of operation;. [4]
References
Ad blocker interference detected!
Wikia is a free-to-use site that makes money from advertising. We have a modified experience for viewers using ad blockers

Wikia is not accessible if you've made further modifications. Remove the custom ad blocker rule(s) and the page will load as expected.