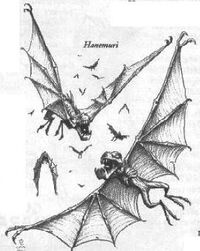 Hanemuri were small, crow-sized creatures that inhabited the treetops of the Shadowlands forests.
They had bony bodies covered in parchment-like skin, their wings looked like those of bats and their jaws were lined with thousands of tiny teeth.
Alone they were shy, but in larger groups they would attacks in swarms against anyone entering their territory. Hanemuri were easily crushed under a fist but too agile to be caught easily. When their number would become to great and threatening to overpower a samurai, it was advised by Kuni Mokuna to simply roll on the ground effectively crushing a great deal of them in the process. [1]
Hanemuri were ravenous creatures. They only remained in an area if there was a promise of food or battle. [2]
See also
Edit
References
Ad blocker interference detected!
Wikia is a free-to-use site that makes money from advertising. We have a modified experience for viewers using ad blockers

Wikia is not accessible if you've made further modifications. Remove the custom ad blocker rule(s) and the page will load as expected.