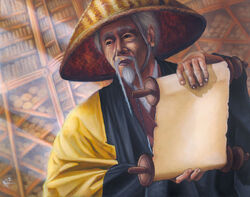 Hamuro, the Wise was a void monk who joined the Phoenix Clan.
Hamuro paid homage to no particular Fortune, instead subscribing to the tenets of the Order of Ten Thousand Fortunes, seeking wisdom from all of the Heavens. He was an expert from any walk of life on any subject, from farming to history, obscure philosophies to battle tactics. [1]
Colonies
Edit
It was hoped that Hamuro's wisdom could aid those in the Colonies who had been deceived by the false promises of the Fudo cult to find the true path once more. [1] In 1198 he and seven other fellow monks traveled together to the Colonies [2] and offered himself as advisor to the [3] Phoenix Clan. [4]
External Links
Edit
References
Ad blocker interference detected!
Wikia is a free-to-use site that makes money from advertising. We have a modified experience for viewers using ad blockers

Wikia is not accessible if you've made further modifications. Remove the custom ad blocker rule(s) and the page will load as expected.