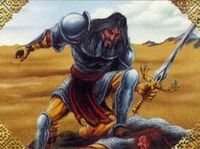 The Half-Plate was a Yodotai armor quite heavy for ranking officers, taken after the Sheel Kingdom joined the Empire. It was popular, being used by the Yodotai Warlords and many Yodotai Berserkers. [1]
Appearance
Edit
Half-plate was composed of steel plates over the vital body parts. The numerous steel plates were connected to a layer of chain mail that covered the arms and upper half of the body. The chain mail and steel plates were both sewn into a quilted vest. [2]
References
Ad blocker interference detected!
Wikia is a free-to-use site that makes money from advertising. We have a modified experience for viewers using ad blockers

Wikia is not accessible if you've made further modifications. Remove the custom ad blocker rule(s) and the page will load as expected.