Ad blocker interference detected!
Wikia is a free-to-use site that makes money from advertising. We have a modified experience for viewers using ad blockers

Wikia is not accessible if you've made further modifications. Remove the custom ad blocker rule(s) and the page will load as expected.
RPG Information
Edit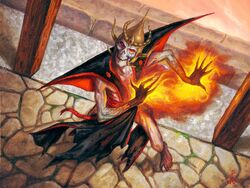 Hakai, Onisu of Death
Statistics
Edit
Air 5
Earth 5
Fire 5
Water 5
Reflexes 5
Stamina 5
Agility 5
Strength 5
Awareness 5
Willpower 5
Intelligence 5
Perception 5
Attack
5k5
Damage
4k2
Carapace
5
TN to be Hit
20
Wounds
25: -1
50: -2
75: -3
100: -5
150: Dead
Special Abilities
Edit
Carapace, Death Sight, Death Touch, Enhancement, Flight, Honorable Vulnerability, Passages, Multiple Attacks, Possesion, Regeneration, Rejuvenation, Summon Weapon.
Animate the Dead, Blood and Darkness, Blood Rite, Choking Death, Commune, Control Undead, Corruption of the Elements, Curse, Fu Leng's Champion, Limb Disruption, Obsidian Armor, Path to Inner Peace, Reflective Pool, Secrets on the Wind, Sense, Summon Greater Kansen, Summon Undead Champion.
Major References
Edit
Secrets of the Phoenix, page 95
RPG Information, 4th Edition
Edit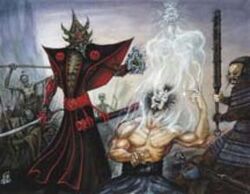 Hakai, Nightmare of the Phoenix
Statistics
Edit
| | | | | |
| --- | --- | --- | --- | --- |
| | Air 5 | Earth 5 | Fire 5 | Water 5 |
| | Reflexes 5 | Stamina 5 | Agility 5 | Strength 5 |
| | Awareness 5 | Willpower 5 | Intelligence 5 | Perception 5 |
Important Statistics
Edit
Special Abilities
Edit
Major References
Edit
Imperial Histories 2, page 221