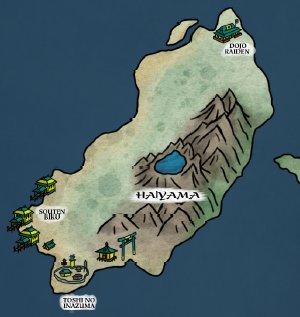 Haiyama, Ashen Mountain, was formed of thousands of layers of ash and lava. It was located near Toshi no Inazuma and contained a crystal lake within its high rock walls. It was sacred to the Mantis Clan. [1]
Destruction
Edit
In 1200 when the Third Seal broke, all Mantis Islands were attacked at once, and overrun by a Shadowlands horde. Rising waters consumed Toshi no Inazuma and dragged it beneath the sea. Haiyama's eruption raked the island. [2]
References
↑ Way of the Minor Clans, p. 14
Ad blocker interference detected!
Wikia is a free-to-use site that makes money from advertising. We have a modified experience for viewers using ad blockers

Wikia is not accessible if you've made further modifications. Remove the custom ad blocker rule(s) and the page will load as expected.