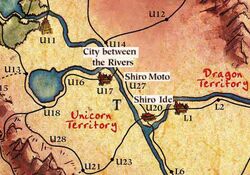 The Firefly River (T) flowed its stream near the White Shore Plain. [1] One side began where Sleeping River and the River of the Lost Valley joined, and the other side where the River of the Drowned Merchant crossed with the Three Stone River. [2] It made a natural border with the Dragon territory. [3]
Commerce
Edit
It was very important for the Unicorn commerce. The river carried most of their trade goods both up and down stream [4] because it was the only easy means of access to and from the Unicorn lands. Fishing villages and farmlands peppered both sides of the Firefly, depending upon yearly flooding to harvest their crops, being the fertile area along the Firefly the most populated of the Unicorn lands. [5]
At the Battle of Firefly River in 1136, the returned Akodo family smashed a Moto and Iuchi offensive into the Ikoma provinces. Akodo Ginawa's victory here was unexpected. [6]
References
Ad blocker interference detected!
Wikia is a free-to-use site that makes money from advertising. We have a modified experience for viewers using ad blockers

Wikia is not accessible if you've made further modifications. Remove the custom ad blocker rule(s) and the page will load as expected.