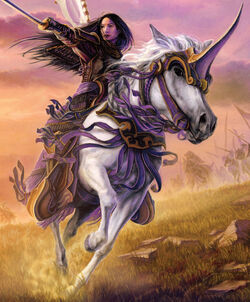 Hachiman was the horse of Otaku Kamoko, [1] named so by Unicorn Clan Champion Shinjo Yokatsu who deemed him as "rash and impetuous as his mistress". [2]
Hachiman was the foal of Kouchi, the favourite mare of Otaku Kamoko (Kamoko's mother), and had been promised to the young Kamoko as her first battle steed. Kouchi died while giving birth, despite the best efforts of Otaku Kojiro and Iuchi Daiyu. The foal was also believed to have died, a stillborn, until it was revived by the twelve year old daughter of Otaku Kamoko who breathed air into it's mouth. Daiyu noted a mark on the foal's ankle which he deemed a mark of Osano-Wo and prophesized that war but not death would come by the time the girl reached her gempukku.[3]
Over the following years the girl and foal grew close, and older. When the girl reached her gempukku she chose the name of her mother, and the Unicorn Clan Champion Shinjo Yokatsu himself spoke at her ceremony. Later the same evening Yokatsu and Kamoko rode next to eachother, and Yokatsu complimented her on the horse. He had already fathered one son with a mare, and Yokatsu wondered what his name would be. Kamoko had not thought about it, so Yokatsu named him Hachiman. [4]
Flash Fire
Edit
Later that same night Kamoko was out riding Hachiman when a lightning strike started a flash fire. The fire would have killed all the pregnant mares and Hachiman's colt stabled at the north fields had it not been for the valor of Kamoko and Hachiman. The two raced through the fire to drive the other horses out. [5]
Yogo Junzo
Edit
Hachiman was ridden by Otaku Kamoko on the Second Day of Thunder in 1128 when it crushed the body of Yogo Junzo, killing him.[6]
Hachiman's foal was given to a Crane who saved Kamoko's life. [7]
Kamoko's Constellation
Edit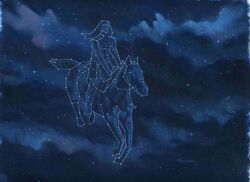 Kamoko was elevated to the Heavens, and Hachiman sat among the stars with her. [8]
External Links
Edit
References