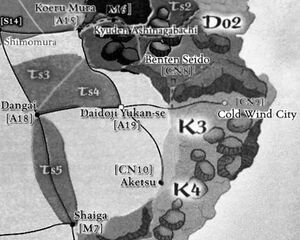 Gyousha province (K3) was one of the southern provinces of the Kakita. Its weather was extreme, due to the combination of warm winds from the sea intermingling with the cold air coming down from the Spine of the World Mountains. [1]
Gyousha was bordered by the Oyomesan province (Do2) in the north, by ronin lands in the west, which separated from the Tsuruchi provinces, by the Kishou province (K4) in the south, being enveloped by Yakamo's Heart in the east. [2]
Holdings
Edit
Its most important holdings were Cold Wind City [2] the Asahina Battle School, [3] and Jurojin Seido. [1]
Festival of Tsuruchi
Edit
Since 1200 it was held in the province an archery tournament named the Festival of Tsuruchi. [4]
References
↑ Way of the Shugenja, p. 30
Ad blocker interference detected!
Wikia is a free-to-use site that makes money from advertising. We have a modified experience for viewers using ad blockers

Wikia is not accessible if you've made further modifications. Remove the custom ad blocker rule(s) and the page will load as expected.