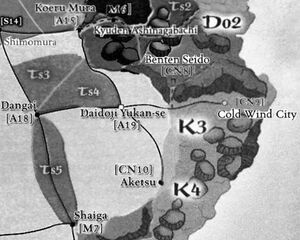 Gyousha province (K3) was one of the southern provinces of the Kakita.
Gyousha was bordered by the Oyomesan province (Do2) in the north, by ronin lands in the west, which separated from the Tsuruchi provinces, by the Kishou province (K4) in the south, being enveloped by Yakamo's Heart in the east. [1]
Holdings
Edit
Its most important holdings were Cold Wind City [1] and the Asahina Battle School. [2]
Festival of Tsuruchi
Edit
Since 1200 it was held in the province an archery tournament named the Festival of Tsuruchi. [3]
References
↑ Way of the Shugenja, p. 30