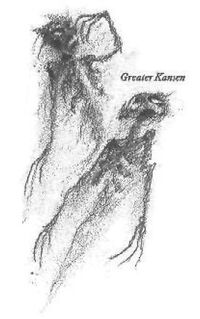 Greater Kansen appeared as greenish-yellow clouds ol swirling gas. They were extremely dangerous and insidious foes. They spread the Shadowlands Taint to those Maho-tsukai who requested their aid, whispering tempting promises in the ears of all they met. Greater Kansen attacked with their incorporeal touch, sucking the life-force out of their unfortunate victims. They only attack those who had endured their shady dealings. [1]
References
↑ Creatures of Rokugan, p. 28
Ad blocker interference detected!
Wikia is a free-to-use site that makes money from advertising. We have a modified experience for viewers using ad blockers

Wikia is not accessible if you've made further modifications. Remove the custom ad blocker rule(s) and the page will load as expected.