Great Falls Castle (D2) was a center of learning and the arts of the Dragon Clan, as well as one of their greatest weapons storehouses [1] and other resources, stockpiled in case an invasion, siege, or other calamity strikes the clan. [2] It was located in the Kaitou province. [3]
The remote castle was built in the 5th century by a Togashi monk who had been born a Kaiu over a roaring waterfall. A river run under the castle and the falls spilled out from under the castle's main gates. The spectacular views inspired some of the Dragon Clan's greatest poets, painters, and playwrights. [4] Local stories claimed the castle was originally built to control the flow of the waterfall, and was able to release torrents of water onto any invaders. [3]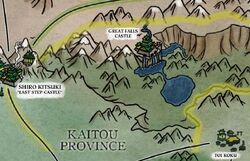 The castle was the greatest dojo of the Dragon Clan outside of the ancient and legendary Iron Mountain Dojo itself, training Mirumoto Bushi, Kitsuki Investigator, and Kitsuki Justicar schools. [2]
External Links
Edit
References
Ad blocker interference detected!
Wikia is a free-to-use site that makes money from advertising. We have a modified experience for viewers using ad blockers

Wikia is not accessible if you've made further modifications. Remove the custom ad blocker rule(s) and the page will load as expected.