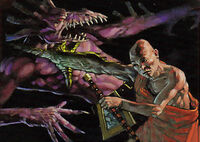 Grasp the Earth Dragon was a Mastery 5 internal earth kiho [1] that drew upon the essence of earth to enhance the chi of the monk, as well as increasing their resistance to mental and physical attacks. It was harder for the monk to lose conciousness, but because of the focus upon earth the monk was unable to speak while the kiho was active. [2] [3]
External Links
Edit
References
↑ Legend of the Five Rings; Fourth Edition, p. 263
↑ Legend of the Five Rings; Third Edition, p. 255
↑ Way of Shinsei, pp. 56-57
Ad blocker interference detected!
Wikia is a free-to-use site that makes money from advertising. We have a modified experience for viewers using ad blockers

Wikia is not accessible if you've made further modifications. Remove the custom ad blocker rule(s) and the page will load as expected.