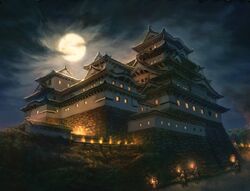 The Governor's Estate located in the Imperial District in the Second City was the seat of power of the Imperial Governor of the Colonies, and was home of the Ivory Court. [1] It was too small to be referred to as a palace, [2]
Guard Duty
Edit
Sentries were mostly members of the Second City Guardsmen, but a portion of each shift was comprised of soldiers seconded from the forces in the Military District. [1]
External Links
Edit
References
Ad blocker interference detected!
Wikia is a free-to-use site that makes money from advertising. We have a modified experience for viewers using ad blockers

Wikia is not accessible if you've made further modifications. Remove the custom ad blocker rule(s) and the page will load as expected.