Ad blocker interference detected!
Wikia is a free-to-use site that makes money from advertising. We have a modified experience for viewers using ad blockers

Wikia is not accessible if you've made further modifications. Remove the custom ad blocker rule(s) and the page will load as expected.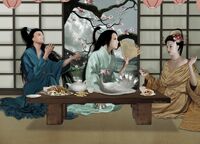 RPG Information
Edit
Gossip (Disadvantage, 5 points)
A character with the Gossip disadvantage is a great listener who tells his friends they could confide in him, but he is not so good at keeping such information to himself. [1]
Characters Known to Have this Disadvantage
Edit
See also
Edit
References