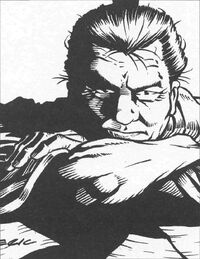 Goshiro was a grizzled veteran and a strong ronin warrior.
Making a Name
Edit
In 1118 Goshiro and eight other ronin were hired by a Crane noble to seek and find hiding bandits in a village, and return them to Kyuden Doji to stand trial. The party killed every bandit and burned the village to the ground. Goshiro made a name for himself as a man who got things done. [1]
In 1123 Goshiro was the yojimbo to Yasuki Nori, Lord of Kyuden Toketsu. He worked hard for the money that Nori paid him. [2]
See also
Edit
References