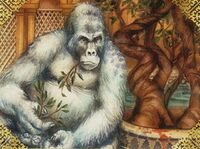 Gorillas were primates which could be seen in the Ra'Shari Caravans, and as pets of the Merchant Kings. [1] Silver Tongue, a Merchant King of the Houses of Dahab bought a gorilla, Hila, and used it as a pet and bodyguard. [2] He was copied by others and the gorillas became popular between the rich men of Medinaat al-Salaam. The intelligent animals could become skilled bodyguards if trained since they were young. Their maintenance was very expensive, because the gorillas ate a lot of food. [1]
See also
Edit
References
Ad blocker interference detected!
Wikia is a free-to-use site that makes money from advertising. We have a modified experience for viewers using ad blockers

Wikia is not accessible if you've made further modifications. Remove the custom ad blocker rule(s) and the page will load as expected.