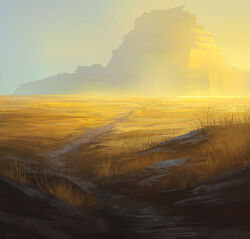 The Golden Plains were located in the lands of the Lion Clan and considered beautiful by many Lion samurai. Among them Ikoma Shika, who travelled to the Second City in the then ruined Ivory Kingdoms after the Destroyer War. [1]
Spirit Wars
Edit
During the War of Spirits the spirit forces of the Hantei XVI swarmed the Lion defenses in the Battle of Shallow Waters. [2]
External Links
Edit
References
Ad blocker interference detected!
Wikia is a free-to-use site that makes money from advertising. We have a modified experience for viewers using ad blockers

Wikia is not accessible if you've made further modifications. Remove the custom ad blocker rule(s) and the page will load as expected.