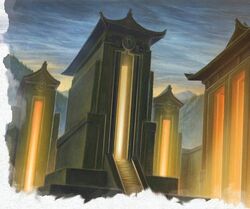 The Imperial Treasury, otherwise known as the "Golden Palace", was in fact anything but golden, extremely staid in appearance, the least ostentatious building in all of the Shijou District at Toshi Ranbo. The unassuming building was a solid four stories in height, with a tiled pagoda roof, [1] a massive vault for the storage of Imperial wealth collected through taxes. [2] It housed the offices for the Imperial Treasurer and his attendants. [3] The lower floors were vaults and offices, some of them extending below ground, the upper stories were libraries. [4]
External Links
Edit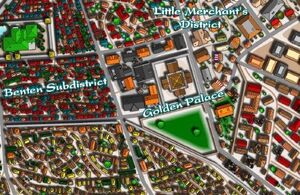 References
↑ Strongholds of the Empire, p. 128
↑ The Atlas of Rokugan, p. 293
↑ Strongholds of the Empire, p. 129
Ad blocker interference detected!
Wikia is a free-to-use site that makes money from advertising. We have a modified experience for viewers using ad blockers

Wikia is not accessible if you've made further modifications. Remove the custom ad blocker rule(s) and the page will load as expected.