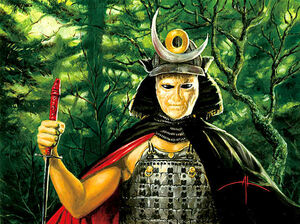 Goju Yume was rumored to have been a great warrior once, but was consumed by the Lying Darkness. He fought the souls of the past, attempting to destroy the Empire by killing it's ancestors. Yume fought at the gate of Jigoku, against the Spirit Legion led by the Tenth Kami. It was never a battle Yume would win, until the death of Ryoshun in 1133. [1]
External Links
Edit
References
Ad blocker interference detected!
Wikia is a free-to-use site that makes money from advertising. We have a modified experience for viewers using ad blockers

Wikia is not accessible if you've made further modifications. Remove the custom ad blocker rule(s) and the page will load as expected.