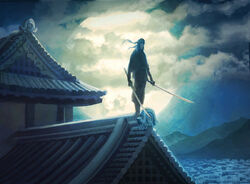 Goju Sawaki was a tainted Goju Ninja of the Spider Clan.
Missions
Edit
Sawaki impersonated a samurai assigned to guard the lands held by the Order of the Spider in the southwest Empire. Later he moved to the Colonies, and infiltrated the Second City Guardsmen. During the Siege of the Second City he was in command of the men who kept closed the gate between the Peasant District to the Imperial District, barring the Ninth Imperial Legion that laid siege to cross the city walls. Sawaki was exposed by the Kuni Daimyo Kuni Renyu, and the gate was seized by the Legionnaires. [1]
Using the Egg of P'an Ku
Edit
Somehow Sawaki was involved in an incident at Kalani's Landing with Yoritomo Saigo, and the ninja employed an Egg of P'an Ku against the Mantis during their confrontation, then made escape. [2]
Captured
Edit
In 1199 Sawaki was impersonating a ronin in Jungle's Shadow Village, when the slumbering Ashalan known as the Crystal Wind attacked the village. The gaijin used tattoo to enthrall his victims, and Sawaki was captured. His face melted away once the sigils took hold. [3]
Dark Naga Assault
Edit
During the Dark Naga Siege of the Second City, Goju Sawaki confronted the Askett, the Dark Naga commander who had razen to the ground the Peasant District. [4]
External Links
Edit
References
Ad blocker interference detected!
Wikia is a free-to-use site that makes money from advertising. We have a modified experience for viewers using ad blockers

Wikia is not accessible if you've made further modifications. Remove the custom ad blocker rule(s) and the page will load as expected.