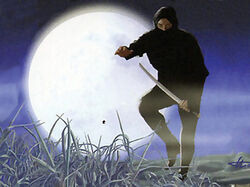 Goju Ryuu was a ninja of the Spider Clan.
Courtier
Edit
Ryuu was sent in the persona of Bayushi Ryuu to a minor and remote court under the rule of the Provincial Governor Chuyo. He enjoyed the ruthless malice with which the Crane chief delegate, Doji Fujie, manipulated other members of the court, and considered bringing her into the Goju against her will. [1] He recovered the book alongside Isawa Aiya and Fujie. [2]
Ryuu became part of a group which were sent by Chuyo to find the Book of Shadows, the alleguedly lost Seventh Book of Enlightenment. [3]
External Links
Edit
References