Doji Ninube was the first wife of Isawa Ujina. She was kidnapped and consumed by the Lying Darkness becoming Goju Ninube.
Early Life
Edit
Doji Ninube was born the only child to Doji Mikara, then daimyo of Ukara Castle. Ninube was born late in Mikara's life. She was said to be skilled in poetry, song, dance and rhetoric. [1]
Appearance
Edit
Ninube's beauty was said to have outshone a jealous Sun. [2]
Corruption
Edit
Doji Ninube was to spend the winter in the home of her husband to be, Isawa Ujina, before their marriage in the spring, so that she could learn the manner and routines of his household. On the road between the Doji and Isawa lands, her caravan was ambushed by minions of the Lying Darkness, and Ninube was kidnapped. Although a group of Emerald Magistrates were dispatched to find the girl, they too were ambushed and slain by minions of the Shadow. A second rescue was mounted, this time lead by Kitsuki Kaagi, who was accompanied by his eta servant Meilekki and Ujina himself. The group managed to rescue Ninube, but Ujina was badly wounded in the fight. Further, it became clear to Kaagi and Meilekki that Ninube had already succumbed to the corruption of the Lying Darkness, but Ujina refused to listen, and took his bride home. [3] [4]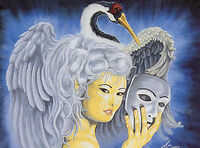 After the birth of their daughter, Isawa Kaede, Ujina discovered the full extent of Ninube's corruption. She had poisoned Ujina's father, Isawa Nodari. The Master of Void killed the creature that had been Ninube, but was greatly injured before she died. The poison that Ninube used against Ujina eventually caused him to become the Nameless One in an attempt to fight the darkness spreading though his body. [5]
See also
Edit
External Links
Edit
References
↑ Way of Shadow, p. 79
↑ Face of Ninube (Hidden Emperor 3 flavor)
↑ Way of the Phoenix, pp. 81-82
↑ Way of Shadow, pp. 79-101
↑ Way of the Phoenix, pp. 82-83
Ad blocker interference detected!
Wikia is a free-to-use site that makes money from advertising. We have a modified experience for viewers using ad blockers

Wikia is not accessible if you've made further modifications. Remove the custom ad blocker rule(s) and the page will load as expected.