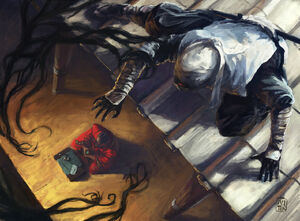 Goju Bunoro was a tainted ninja of the Spider Clan known as the Displacer.
Fighting the Scorpion
Edit
After a skirmish with members of the Scorpion Clan in the Colonies, Bunoro seemed obsessed with Shosuro Nobu. Time later Bunoro confronted Shosuro Konishi, during the Scorpion's assault of the house of Bunoro's charge, Otomo M'rika. Konishi managed to feint all the attacks made by Bunoro, who vanished into the shadows. [1]
External Links
Edit
References
Ad blocker interference detected!
Wikia is a free-to-use site that makes money from advertising. We have a modified experience for viewers using ad blockers

Wikia is not accessible if you've made further modifications. Remove the custom ad blocker rule(s) and the page will load as expected.