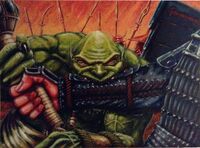 Goblin Warmongers, the Goblin leaders, [1] were bigger and smarter than their normal counterparts, and this showed in their capability of using armor and swords left by dead bushi. If goblins raided a Crab fortification it was usually the warmongers who were leading the way. [2] They were skilled at "leading from the rear," and could stay alive much longer than their charges. [3]
Crafters
Edit
All the most remarkable goblin inventions came from warmongers, such as the infamous "war truck" of the warmonger Ropputu and the "war machine" of Thuk-Kigi. [4]
See Also
Edit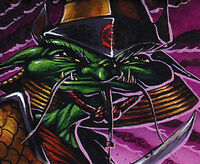 External Links
Edit
References
Ad blocker interference detected!
Wikia is a free-to-use site that makes money from advertising. We have a modified experience for viewers using ad blockers

Wikia is not accessible if you've made further modifications. Remove the custom ad blocker rule(s) and the page will load as expected.