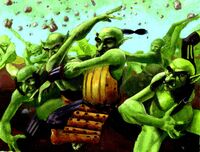 Goblin Chuckers were goblins trained to throw rocks and other objects at their enemies with their bare hands. Not known for their individual aim, they were merely useful if there were many of them. [1] Goblin Warmongers often assigned the best chuckers together and used them to distract enemies, pelting them with painful stones while the bulk of the bakemono troops sprinted into melee. [2]
See also
Edit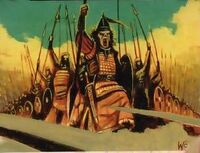 External Links
Edit
References
Ad blocker interference detected!
Wikia is a free-to-use site that makes money from advertising. We have a modified experience for viewers using ad blockers

Wikia is not accessible if you've made further modifications. Remove the custom ad blocker rule(s) and the page will load as expected.